Students in this course learn a great deal about the evolution of drama in the Middle Ages, write a number of papers, including one which suggests links between Medieval plays and contemporary films, and utilize this newfound knowledge by tackling the problems of text and time first-hand, as it were, by scripting and staging their own play. In 2008 we produced The Castle of Perseverance, a play about the struggle between good and evil within the individual soul, but with a twist: It's a battle royale with no-holds-barred, complete with preaching angels and farting devils, and the Seven Deadly Sins march to war with the Seven Cardinal Virtues at the very gates of the Castle of the Soul. The Castle of Perseverance is long and theologically complex, as well as elaborate in its use of costumes and props; following in the footsteps of our previous successes, however, we truncated, translated, and updated the play in a minimalist style evocative of such '80's teen classics The Breakfast Club and Fast Times at Ridgemont High.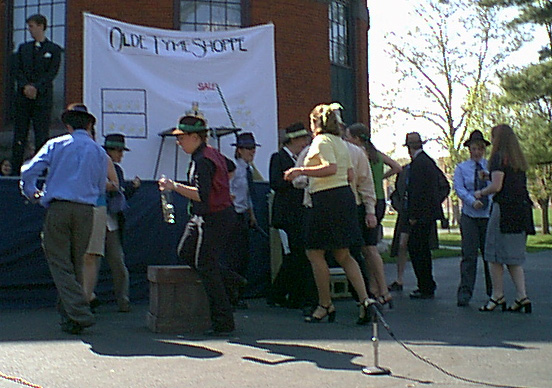 "Play man, play!" The 2001 Class produced a Jazz Age version of the Morality Play "Mankind" (Image Credit: Fee 2001)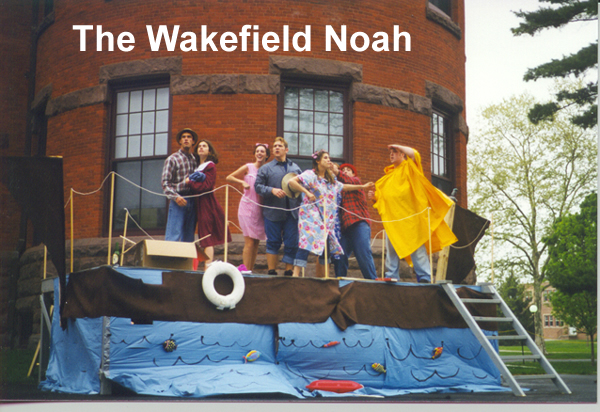 "Get on the damn boat!" The 1999 Class produced a Hillbilly version of the Wakefield Master's "Noah" (Image Credit: Fee 1999)
In a stunning twist of Fate, Josh Eyler, '00, one of the leads in our original production in 1999 who played the eponymous Noah (in yellow slicker, above), has gone on to be a scholar of Medieval Drama, and published an article on the N-Town Noah in the April 2010 issue of Neophilologus. Our 2010 Solid Gold Zombie Dancers shook some extra glitter during the Thriller number in Josh's honor! Thankfully, no limbs seemed to shake loose…. The campus-wide performance was on April 30th, 2010 at 4:00 PM behind Breidenbaugh Hall on the campus of Gettysburg College.
Medieval Drama extends across generations of Gettysburg students! Siri (White) Phelps, '01, was one of the translators of and performed in our Jazz Age version of Mankind long before she became an English teacher at Fairfield High School. Siri can be seen (in the center of the shot above, in the yellow top) getting down to the smooth jazz tones of the Joe Zoller Orchestra. Well prepared for the rigors of Medieval Drama by Mrs. Phelps, her former Fairfield students Eleanor Leaman and Emily Schrum went on to help to sound the notes of Doom in our 2010 Last Judgment!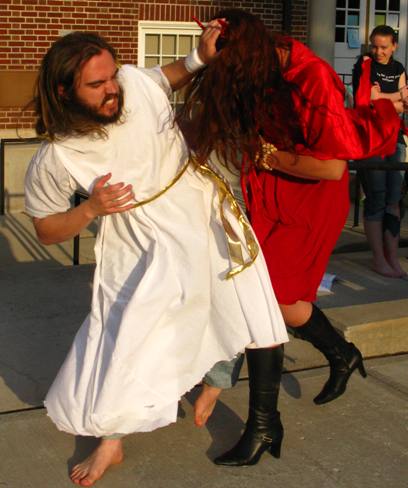 "Get thee to Hell, Satan!" 2010's Zombie Apocalypse version of the Wakefield "Last Judgment" featured Christ the Judge in a Triumphant Throw-down with Satan! (Image Credit: Fee and Miller 2010)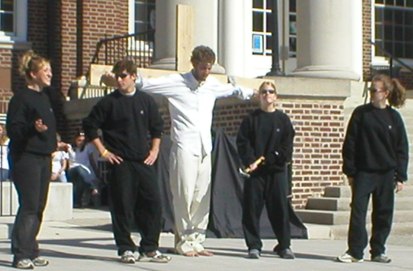 "They know not what they do...." The 2005 Class produced a "Goodfellas" version of the York "Crucifixion" Play (Image Credit: Fee 2005)