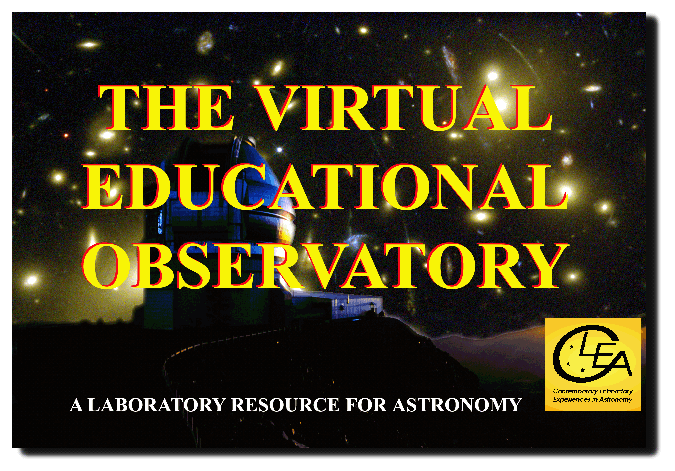 A Description of the Software:
Purpose: VIREO, the Virtual Educational Observatory, is a simulated observatory which can access a huge database of astronomical information, both through a set of dedicated catalogs and via on-line databases. It provides a set of optical and infrared telescopes of various sizes along with a radio telescope. Auxiliary equipment includes CCD and infrared imagers (which produce FITS files), an aperture photometer, a single-slit spectrometer and a multi-object fiber-fed spectrometer, and multiple tunable radio receivers. Analysis tools are provided for astrometry, photometry, spectrum analysis, and a variety of other purposes.
VIREO provides the instructor not only the means to carry out established CLEA exercises, but also to design new exercises and open-ended discovery experiences that realistically simulate modern astrophysical research. It is accompanied by an extensive manual that describes all its features, including complete information on configuring the software to meet the purposes of a wide variety of classes and levels of expertise.
TO DOWNLOAD THE SOFTWARE AND MANUALS---
JUST CLICK ON THE APPROPRIATE LINKS TO THE RIGHT►
Required Windows Software and Documentation

The VIREO Software Click Filename to Download (using left mouse button to "Save Link As")
This is a zip file that contains an .exe file that will install itself when you run it on your computer.You will also need the manuals for the software---it is lengthy and helpful---which can also be downloaded below

DOWNLOAD SOFTWARE and Documentation-->

If you would prefer to receive the software and Documentation on disk: We will be happy to send you this or any of our other software and manuals at no cost on a CDRom. Contact us by clicking the link below.