Personal Profile

Fee attended a small liberal arts college in Ohio; his undergraduate experience was not unlike that of his current students, and Gettysburg at times seems eerily familiar. Fee received a Master's in English at Loyola University in Chicago, where he spent a lot of time reading at the Newberry Library, drinking coffee with hipsters in Rogers Park, and riding the El at all hours of the night. From there Fee moved on to the University of Connecticut, where he received a Master's in Medieval Studies and admired the foliage. Fee then went to the University of Glasgow, in Scotland, where he received his Doctorate in English Language. He also ate a lot of haggis (he did!), drank very little single malt scotch, and hiked and climbed extensively in the Highlands.

Fee was trained as a specialist in Old English language and literature, with additional teaching and research interests in Old Norse (that's the Viking stuff!); the History of English; Middle English;British, Medieval and Indo-European Mythology; theories of torture, pain, and the body as text; and technology and pedagogy. Fee's courses on Medieval Drama seem especially popular, and each class stages its own 21st century adaptation of a Medieval play. Fee has taught a number of courses in Denmark, where his Hamlet class has staged the play in Kronborg Slot, aka "Hamlet's Castle."

Fee has published numerous articles; Fee's recent work includes an article on Old Norse assembly sites, as well as a discussion of the pedagogical value of technology in the teaching of the Anglo-Saxon Cult of the Cross. Fee has two books out two soon to be released, and one under contract. Gods, Heroes, and Kings: The Battle for Mythic Britain, written with David Leeming, was published by Oxford in 2001; the paperback was issued in March 2004. Those who'd like to see Fee prattle on may view an interview about mythology, Medieval literature, and the liberal arts ideal. Fee's most recent book, Mythology in the Middle Ages, a volume in the Praeger series on the Middle Ages edited by Jane Chance, came out in January of 2011.To learn more about this work, read a recent press release or watch the related video interview. The Goddess: Myths of the Great Mother published by Reaktion Press in London in March 2016 and distributed in the US by the University of Chicago Press, was written with David Leeming. American Myths, Legends, and Tall Tales, released by ABC-CLIO in August 2016, was edited with Jeffrey Webb. Arthur: God & Hero in Avalon, is under contract with Reaktion.

Fee embraces the use of technology in many forms, and most especially in its pedagogical guises: The Secret of Otter's Ransom is a multimedia project which helps users to visit and to learn about some of the most spectacular archaeological and cultural sites of the British Isles and Iceland; read about this project's creative use of Interactive Fiction in a Gettysburg College press release, and contribute to on-line discussions concerning this project in Liberal Education Today and Musings on Instructional Technology. In addition, the designers of the gaming software used in this endeavor have followed with interest its implementation as a pedagogical tool, and include links to a video about Fee's project produced by Quinnipiac University entitled Winning Fafnir's Gold. These links may be found on the Inform 7 Resources pages, sorted by Subject Matter and Grade Level.

Fee also teaches a First Year Seminar on the Literature of Homelessness that includes a substantial service-learning component in Washington, DC. To learn more about the perspective of the students in this course in their own words, view video blogs and read blog articles posted by students in the midst of their experiences. In particular, this class draws upon a well-developed relationship between Gettysburg College and DC Central Kitchen that spans well more than a decade; learn about DCCK and see Fee's students in full culinary mode in these Voice of America text and video stories. This course also includes a weekly commitment to serve in the local community; students from this course have often, to cite just one example, planned and implemented the Life Skills course at the local Homeless Shelter. All students in this course also spend at least one night in the local cold-weather emergency shelter, as well as helping that organization in other ways. Such students often are impassioned advocates for simple human dignity. Drawing upon aspects of the homelessness course, Fee also developed a course concerned with the impact of poverty upon education in rural America. This course contains a service-learning component in a local rural school district.

Fee was from 2008-2011 the Johnson Distinguished Teaching Professor in the Humanities at Gettysburg College, in which capacity he mentored junior faculty and helped to nurture creative teaching across the curriculum. In addition, Fee is an active participant in the Outdoors Education Programs offered by Gettysburg's Office of Experiential Education, and has helpd to lead educational adventure treks through the Highlands and Islands of Scotland with the Office of Experiential Education.

Giddy with the milk of human kindness, Fee has embraced service on numerous committees concerned with college governance, the curriculum, and accreditation, and has served as the On-Campus Coordinator for Gettysburg's Study Abroad in England Program, mainly because he knows how to brew a decent cuppa. Fee also has served as the Faculty Liaison for the Center for Public Service at Gettysburg, in which capacity he worked to promote community engagement by faculty in the form of service-learning as pedagogy and community-based research as scholarship. Fee is also the advisor to the campus chapter of Habitat for Humanity, and the work of our chapter of Habitat, the Center for Public Service, and service-learning courses at Gettysburg were the subject of a recent video. Just click on his big bald head! Fee currently is a member of the Board of the Upper Adams School District, and also serves on the Boards of Pennsylvania Interfaith Community Programs Incorporated and Gettysburg C.A.R.E.S., a local emergency cold-weath homeless shelter. Fee has been a member and workshare participant of the St. James Community Supported Agriculture coop since its inception in 1998, and is a longtime member of the Potomac Appalachian Trail Club, in which capacity he serves as a co-overseer of a section and shelter on the Appalachian Trail.
Courses Taught at Gettysburg College

Courses Taught at DIS in Copenhagen: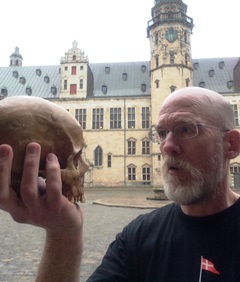 "It's like looking into a mirror!" Fee contemplates mortality as he gazes into Yorick's empty sockets at Kronborg Slot in Helsingør on the day of the Hamlet in Denmark course's production of the play. Click the image for a view into the afterlife as recounted by the Ghost of King Hamlet. (Image Credit: Fee 2015)